Thursday, February 26th, 2015

Naked Edge Snack's Veggie-Go's could quite possible be the absolute best snack-on-the-go.
Portable, tasty and full of all things good, Veggie-Go's make you feel good about snacking.
Veggie-Go's are similar to a fruit strip but are made from whole, organic fruits & veggies. They are also gluten-free, Non-GMO and certified organic.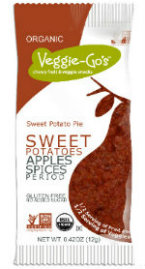 The flavors are unique and tantalizing. Perfect for adults, but loved by kids too. My favorite is the Sweet Potato Pie, a sweet blend of Sweet potatoes, apples and spices, that reminds me of Thanksgiving Day. Other flavors offered are: Mountain Berry Spinach, Cinnamon Spice Beet, Carrot Ginger, and the newest addition, TropiKale, a delicious marriage of tropical fruits of kiwi, guava and mango with nutrient-dense kale, pumpkin, and apple.
Cheers and congratulations for Naked Edge Snack's Veggie-Go's for being awarded this week's Friday Favorite on BeFreeForMe.com!