Season of Giving and Sharing
This time of year brings together family and friends, most often around a table full of the bounty of the season – garnished meats, vegetable casseroles, savory stuffing and baked goo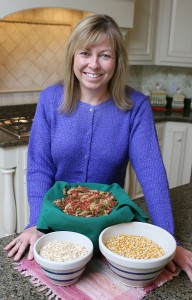 ds galore. Often this becomes a trying time of year for many celiacs and food allergy sufferers, as well as their families.
Over the last month, many BeFreeForMe members have reached out looking for answers with their food intolerance or allergies during the approaching holiday season. Members are looking for answers – everything from finding a gluten free turkey to how to prepare for houseguests that have food allergies.  Whether you are a recently diagnosed newbie or a veteran navigator of allergens, we all have questions, answers, advice, and the gift to support each other.
Approaching this season of giving and sharing, I hope that all BeFreeForMe members will post their favorite recipes on the Recipe Sharing section of the website, as well as contribute to the BeFreeForMe blog by sharing their favorite holiday traditions, advice, tips and pointers. Also, make sure that you check out the article section of BeFreeForMe.com to find numerous holiday related information and tips.
Happy Holidays to you and yours!
Be Free!
Kathleen