I HAVE A DREAM! Is Good Gluten Free Pizza Just a Pie in the Sky?
According to Wikipedia, the phrase "pie in the sky" means a fanciful notion or ludicrous concept. According to a celiac this term could easily be interchanged with "good gluten free pizza pie".
My beloved pizza. Oh, how I missed the commonality of that simple pie.
Yes. There are gluten free pizzas that are currently available. But the celiacs and non-celiacs are divided when it comes to sharing a common pizza union.
Celiacs know the drill: We eat "our" pizza when all the other non-celiac's at the gathering enjoy "their" pizza.  The great pizza divide.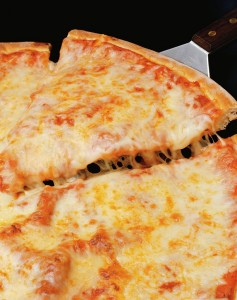 Is a good globally, sharable pizza too much for a celiac like me to ask? Can there ever be pizza unity between us all?
To this day I have not been able to find a universally sharable pizza… a pizza that could be shared in harmony with celiacs and non-celiacs alike. A pie that could be embraced and loved by all. One big happy family pizza pie.
I found this promise of fulfilling my dream at the Natural Product Expo East. I sampled a handful of pizzas that were a promise of pizza unity. Unfortunately, all these pizzas are not yet available…. Yet, they will be in the next month or so. I will keep all posted on the availability and the fulfillment of this attainable American celiac dream!
Tags: Gluten free pizza