Win-It-Wednesday: "Gluten-Free Cooking for Two" Cookbook by Carol Fenster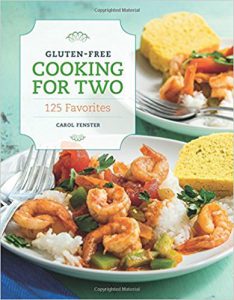 It's cookbook giveaway time again! And this time it is sponsored by one of my favorite gluten-free cookbook authors, Carol Fenster!
Carol's new gluten-free cookbook is genius. Living in a two-person household, Carol decided that enough was enough when it came to "over-making" recipes by preparing enough to feed a small army. So she wrote Gluten-Free Cooking for Two, a collection of 125 recipes, that are absolutely perfect for two.
Being in a household of two myself I love this cookbook. It is perfect for empty-nesters, newlyweds or even singles. Besides being convenient, this cookbook has allowed me to actually save money (and we all know I love to save!) since it allows me to cook only the portions that I need, and as a result reduce the amount of food I throw away. Why? Because having mega amount of leftovers is so overrated and wasteful most of the time! Let's face it… the concept of eating that super-sized gluten-free casserole as leftovers for the whole week never, ever really happens!
Gluten-Free Cooking for Two focuses on those dishes that require real kitchen finesse to downsize. It may be easy to grill up two chicken breasts or steaming veggies for two, but as Carol says, sometimes "… it's not always as simple as dividing a 4-serving recipe in half." That's where this cookbook comes into play!
Some of the recipes I loved in the cookbook are the Chicken Pot Pies with Rustic Biscuit Crust, Coconut-Curry Salmon, Chia Breakfast Pudding, Chicken Tikka Masala, Minestrone Soup and the Lemon Bars. All are delicious, easy to make and perfect for two! And as a bonus, Carol also includes the recipe for her signature Gluten-Free Flour Blend, plus tips for "small batch" grocery shopping & prepping.
And lucky for all of you, Carol Fenster and her team are providing us with TWO copies of the "Gluten-Free Cooking for Two" cookbook for two lucky winners of this contest!
One (1) winner will be randomly selected to win a cookbook from the entries received before Tuesday, April 11, 2017 at 11:59 PM EST, and one (1) more winner will be randomly selected to win a cookbook from the entries received between Wednesday, April 12 2017 and Tuesday, April 18, 2017 at 11:59PM. SO – make sure you enter two times to win!
How can you win?
Easy!
Reply to this blog and tell us your all-time favorite go-to recipe!
Good luck, happy cooking, and as always …
Be Free!
Tags: Carol Fenster, Gluten-Free Cooking for Two Cookbook, Win-It-Wednesday