Win-It-Wednesday: Gratify Foods Gluten-Free Pretzel Crackers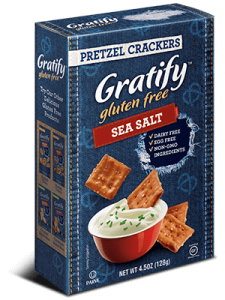 Let's face it … everyone loves pretzels! They're fun for snacking, soup toppings, appetizers and even for desserts (Yes… Desserts! More on that later!)
And if you haven't tried Gratify Foods Gluten-Free product line, you must!
They make tons of gluten-free items, including Pretzels, Pretzel Crackers, Pretzel Thins, Baked Crackers, and my favorite the Covered Pretzels (YAY to chocolate and yogurt covered pretzels!).
All of their items are certified gluten-free, and many are also egg-free, dairy-free and Non-GMO (Check out their website for more details).
A total of two (2) BeFreeForMe members will be selected to win a pack of the Gratify Gluten-Free Sea Salt Pretzel Crackers.  One winners will be randomly selected from the entries received before Tuesday, April 25, 2017 at 11:59 PM EST, and one more winners will be randomly selected to win from the entries received between Wednesday, April 26 and Tuesday, May 2, 2017 at 11:59 PM. SO – make sure you enter to win two times!
How can you win?
Easy?
Reply to this blog and tell us your favorite type of Gratify snack! (Is it the traditional Sea Salt Pretzels? Or maybe the Milk Chocolate Covered Twists? Or maybe the Peanut Butter & Milk Chocolate Twists?)
Good luck, get snacking… and as always,
Be Free!
Tags: Gluten Free Yogurt Pretzels, Gluten-Free Covered Pretzels, Gratify Foods, Win-It-Wednesday