Friday Favorite: Yoga Chips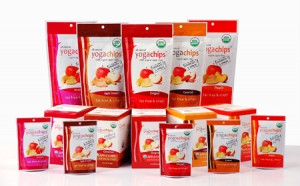 I love apples. But sometimes, it's hard to carry around the real deal.
That's why (as you have all have heard in the past) how I like to reach for dried apples, or other dried fruits, for those times when I need a quick and easy fruit snack.
Last month I found another favorite dried fruit at the Natural Products Expo is Boston. Yoga Chips. They are made from the highest quality USDA certified organic Fuji apples.
These snacks are also 100% fat-free and bursting with real apple flavor. My favorite is the Apple Cinnamon; but they also come in Original, Caramel, Peach and Strawberry.
These are perfect for snacks on the go, and in essence put a little bit of calmness in my hectic days!
Tags: Friday Favorites, Yoga Chips