WIN-It-Wednesday: Yumnuts… Can you say "yum"?
Sometimes you have to take a look at the yummy side of life.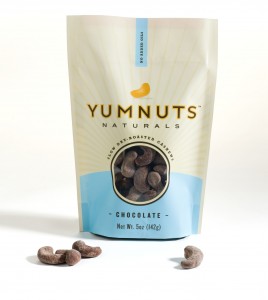 That's what the folks over at Yumnuts did when they developed their line of jumbo dry-roasted cashews that are topped with lip-smacking & finger-lickin' spices, coatings and seasonings.
Yumnuts are ingenious.
With no added oils, cholesterol, preservatives, artificial sweeteners, trans fat, artificial flavors, or gluten, these snacks are a smart snack; Especially when you are looking for a little sweetness, or spiciness, to kick your mid-day snack up a notch or two.
Most flavored nuts are oiled or battered (i.e. full of gluten), but not Yumnuts. These nuts are handled with care. Slow roasted in small batches. Made with yum in mind.
According to Yumnuts website their motto is: "To get people saying 'yum' again." That's remembering to laugh, following their passions, enjoying the little things, chasing those dreams. Yup… all the yummy simple things in life.
That is why I am nuts over this WIN-It-Wednesday's prize: A gift box packed with one of each of the Yumnut Varieties (Chocolate, Honey, Sea Salt, Spicy Cajun, Chili Lime, Toasted Coconut) and a Yumnut tee-shirt.
How can you win?
EASY!
Reply to this blog and tell us how you embrace the "yum" in life (Me? Meeting up with my friends, and vowing we will do it more often… and then we do!)
All winners will be picked at random and must be BeFreeForMe members. Entries must be posted by Sunday, November 8, 2009 at 12:00 Midnight EST.
Be Yummy. Be Nutty. And as always…
Be Free!
Tags: Win-It-Wednesday, Yumnuts