Friday Favorite: Yumpeez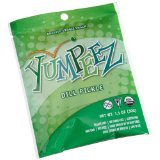 This weeks Friday favorite is yet another snack. Snack time is a fun time, but can often be challenging due to food allergies.
I discovered Yumpeez about one year ago, and have been a fan since. These roasted veggie snacks, are made of, you guessed it… Peas!
Crispy, crunchy and best eaten by the handful, these high protein peas, cleverly disguised as a snack, are an unexpected nut-free, peanut-free, gluten-free, lactose-free, soy-free and high fiber snack.
I also like that these snacks are low fat and low-cal.
Yumpeez are available in two flavors: Dill pickle and Barbeque. My favorite is the Dill Pickle; it has just enough pucker to pack a punch and make an everyday pea something super special.
Available in 1.1 ounce snacking-sized bags on Amazon.com.
Tags: Friday Favorites, Yumpeez