Friday Favorite: Gin Gin's Ginger Candies
When I am on the go & traveling to and fro, I like to grab a handful of Gin-Gin's Ginger Candies and throw

them in my bag.
I love the spicy & fresh taste of the ginger. My favorites are the hard candies or the soft chews since they are wrapped in their own individual wrapper and so easy to transport. But I am also a huge fan of the sweet, yet spicy, crystallized ginger too.
I like the fact that they have a whole gluten-free section on their website, and also offer tons of products like spreads, syrups and sauces… all made with, you guessed it, ginger!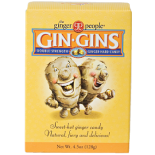 They say that ginger has medicinal purposes. Fondly called the "potion of motion" ginger has been known as a soothing remedy for any type of motion sickness. Ginger has also been linked to helping with nausea, nixing pain and also promoting digestion.
But beware Gin-Gin candies are addictive. Once you try them you'll be a fan for life.