Friday Favorites: Bai Antioxidant Infusion Drinks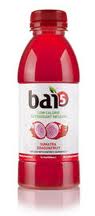 I usually don't rave too much about beverages, but last week I discovered a fantastic new drink at StyleFixx in Boston. Although found only in select markets it should be available across the US in the next 6 months (if you live in the Northeast, California, Metro-Seattle, and Wisconsin – your in luck now). But believe  me… it's worth the wait!
The drink is called Bai and it is a powerhouse of antioxidants. This drink is juicy, tantalizing… and gluten-free. It's not your average juice or even energy beverage since it's naturally infused with coffee fruits extracts, which contain 40 times more antioxidants that a pomegranate.
My favorite of the Bai drinks are the two 5-calorie Bai-5 flavors Costa Rica Clementine and Sumatra Dragonfruit, but they also come in 4 other thrilling flavors too: Tanzania Strawberry, Mango Kauai, Jamaica Blue berry and Kenya Peach and Panama Peach.
And the fun part about this product is that although it taste nothing at all like coffee (trust me on this!) it contains 70 mg of caffeine which comes from the coffee fruit & white tea extract (a typical 16-ounce coffee contains about 70-120 mgs).
Check out their website for more info: www.drinkbai.com
Natural energy, plentiful antioxidants, only 5 calories and exciting flavors makes this week's Friday Favorite an easy choice…. Bai-5 Antioxidant Infusion Drinks! Cheers!