WIN-It-Wednesday: Rudi's Gluten-Free Bakery

Don't you just love it when you find really, really, really, good gluten-free foods?
If you're like me, when you discover such a "find" you want to tell the world, shout it from your blogspot, dream about it and secretly scheme about your next encounter.
Rudi's Gluten-Free Breads had me at the first bite. After that bite I was dreaming about French toast, grilled cheese, BLT's, even the basic peanut butter & jelly. All simple foods to most, but a true delicacy to me.
What I love the most about Rudi's Bakery is that they make tons of delicious gluten-free breads (including original, multi-grain and cinnamon raisin), pizza crusts and… drumroll please… their new multigrain gluten free hamburger rolls and hotdog rolls!
Funny how your life changes. How something as simple as a slice of bread, or a single hotdog roll, can have you singing from the highest mountaintop.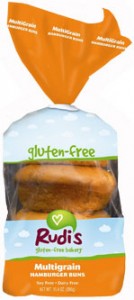 This Memorial Day weekend is the official kick-off of summer, the official grill time. And this Memorial Day will be, well …quite memorable for celiacs everywhere because of these new Rudi's buns!
No more eating a plain hamburger or hotdog "No roll, please" style. No more envying others when they bite into a big, fat juicy burger. And let's face it, hotdogs are just plain old b-o-r-i-n-g and not any fun at all without a roll.
Just in time for Memorial Day weekend, I am so thrilled that Rudi's Gluten-Free Bakery will be sponsoring the next two week's Win-it-Wednesday's on BeFreeForMe.com!
A total of FOUR (Yes… 4!) BeFreeForMe members will be selected to win a gift pack of Rudi's Gluten-Free Breads & Rolls. Two winners will be randomly selected from the entries received before Tuesday, May 31st, 2011 at 11:59 PM EST, and two more winners will be randomly selected to win from the entries received between Wednesday, June 1st and Tuesday, June 7, 2011 at 11:59PM. SO – make sure you enter to win two times!
How can you WIN?
EASY!
Reply to this blog and tell me your favorite way to dress up a hotdog or hamburger (or veggie burger, etc.) that is placed on a gluten-free roll. (Me? Canadian Bacon, BBQ Sauce & Cheddar on my hamburger, please!)
Good luck, roll out the good times this Memorial Day weekend…and as always,
Be Free!
P.S. Also, make sure you check out the recipe contest that Rudi's is holding on their Facebook page and vote for your favorite! Also, if you have submitted a recipe in this contest, PLEASE let us know which one is yours so we can check it out!
Tags: Gluten-free hamburger rolls, Gluten-Free hotdog rolls, Rudi's Gluten-Free Bread, Rudis' recipe contest, Win-It-Wednesday