WIN-It-Wednesday: riceworks® Gourmet Brown Rice Crisps!
Welcome to the third edition of WIN-It-Wednesday! Hopefully, this series will continue its wickedly wild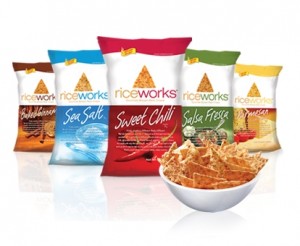 popularity and it will become a weekly feature on the BeFreeForMe blog!
I know by now many of you have had the opportunity to try riceworks® Gourmet Brown Rice Crisps, but if you haven't tried them yet – you really need to!
The reason why I love these crisps so much is because they are a cross between a chip and a cracker. Crunchy and salty enough to replace potato chips, yet firm enough to handle any dip, hummus or piece of cheese – these crisps are rice – and they work!
They also come in six yummy flavors… Sea Salt, Sweet Chili, Salsa Fresca, Parmesan, Wasabi and Baked Cinnamon. Sweet, savory, and salty. Something for all my taste bud needs. Plus they are gluten-free, all natural, no preservatives or artificial flavors, no trans fats, plus they are vegan and kosher friendly.
Another nice thing about riceworks® Brown Rice Crisps is that they work with my busy
lifestyle. You can find them almost anywhere – Wal-Mart, Super Target, Costco, BJ's Wholesale Clubs, Stop & Shop, Shaw's and Pathmark, to name just some of the locations.
Needless, I was thrilled when the folks at riceworks® asked to sponsor the prize package for this weeks WIN-It-Wednesday… and the prize is so awesome!
Here is the prize… riceworks®  gear (a hat and a t-shirt), Two (2) chip clips, three (3) recipe cards and one (1) CASE of free product (that's 12 bags!) in the flavor of the winner's choice!


How do you win?
One lucky BeFreeForMe member will randomly be chosen that replies to this blog and lets us know what flavor of riceworks®  they would choose if they are picked the winner.
How easy is that!
Also, the contest ends on June 5 at 12 midnight EST  – so reply now!
Good Luck!