Friday Favorites: Trader Joe's Gluten & Dairy Free Pancakes (and 3-slot toasters!)
I usually like to make my breakfast from "scratch" and try not to rely on pre-made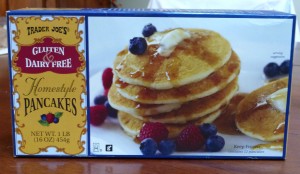 offerings since homemade is usually far more economical. But there are some mornings I need a good "sit down breakfast" yet don't have the time, or the bother to fuss.
This is when I reach for my Trader Joes Gluten AND Dairy Free Homestyle Pancakes.
Each box has four handy packets each containing three pancakes. The pancakes aren't huge, but the three pancakes are a satisfying meal. The only tricky thing I have encountered is toasting all sides of the three pancakes when I have a 2-slot toaster (BTW – I know people with a 2-slot and a 4-slot toaster, but never a 3-slot toaster)! I solved the dilemma by buddying up two panckes in one slot, popping the toaster mid-cycle and rearranging the pancakes so that all pancake sides get that "I need butter to melt all over me" toasty glow. But I admit…  I have once or twice eaten a cold sided pancake – maybe I need to pay more attention, but that can be hard some mornings – especially before I've eaten.
The package shows them served with berries, syrup and melted butter, but I usually eat mine with either real maple syrup, or if I feel I need to adjust my sugar and calorie count, Maple Grove Farms or Vermont Maid Sugar Free syrup – both of which are clearly marked gluten free on their labels.
I also have spread raspberry preserves on these panckaes and eaten them in-hand and on-the-go on the days when a fork and knife are not an eating option.
All in all, these pancakes have my pick for BeFreeForMe's  Friday Favorite for this week. Call them what you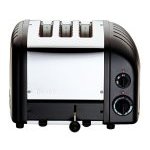 want… pancakes, flapjacks or hotcakes… they are a really good and quick breakfast, a freezer staple and a must-buy on a Trader Joe's shopping trip.
One more thing…  Trader Joe's, if your reading this, you may want to buy some stock in a 3-slot toaster manufacturer.