WIN-It-Wednesday: The Dairy-Free & Gluten-Free Kitchen Cookbook by Denise Jardine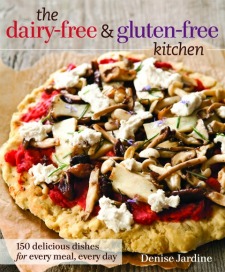 It seems that everywhere I turn, folks that are on a gluten-free diet, are also are on a dairy-free diet too. Talk about a double-whammy. Statistics now support the connection between dairy- and gluten-related health issues, and more and more people are being diagnosed with BOTH gluten and dairy issues.
And Denise Jardine is one of those people.
Denise, a nutritional educator who wrote "Recipes for Dairy-Free Living", found out that she too also had gluten-related issues, after eighteen years of living with a dairy allergy.
So back to the kitchen and keyboard went Jardine.  And this time she's cooked up a gem of a cookbook for those on a gluten-free and dairy-free diet: "The Dairy-Free & Gluten-Free Kitchen… 150 delicious dishes for every meal, every day".
This cookbook is full of easily approachable recipes that are straightforward to read and prepare; however, the recipes themselves yield those "you-shouldn't-have-slaved-in-the-kitchen-all-day-for-me"  comments from your family, friends and guests. Some of the recipes that caught my eye, and put a grumble in my stomach include Coconut-Lime Seafood Stew, Peppered Pork Tenderloin in Mustard Cream Sauce and German Apple Souffle a la Mode. Dinner party anyone?
And if you have other allergies or watching your sugar intake, no worries, Jardine has you covered. Similar to BeFreeForMe.com recipes, the recipes in this cookbook has a coding system that indicates other common allergens the recipe is free of.
What a perfect cookbook for BeFreeForMe.com readers! Which is why I was thrilled that this Win-It-Wednesday on BeFreeForMe was going to be sponsored by The Dairy-Free & Gluten-Free Kitchen Cookbook.
A total of two  BeFreeForMe members will be selected to win a copy of this cookbook. One (1) winners will be randomly selected from the entries received before Tuesday, March 13, 2012 at 11:59 PM EST, and one (1) more winners will be randomly selected to win from the entries received between Wednesday, March 14 and Tuesday, March 20, 2012 at 11:59PM. SO – make sure you enter two times to win!
How can you win?
Easy!
Reply to this blog and tell us what being "free" means to you. A very open ended question, I know! (Me? Here are a few things: A clear conscious; recognizing all the good in my world and then having that appreciative feeling that totally makes my day; and walking on a beach early in the morning). How easy is that? Now it's your turn…
Good luck, embrace being free of the foods that you need to be… =) and, as always…
Be Free!
Note: Want to buy this cookbook now? Check out this link on Amazon.com. This cookbook is also eligible for Super Saver Shipping! The Dairy-Free & Gluten-Free Kitchen
Tags: Gluten and dairy free recipes, The dairy-Free & Gluten-Free Kitchen Cookbook, Win-It-Wednesday