Friday Favorite: Chimes Ginger Chews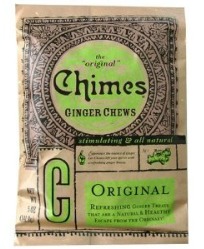 This week's Friday Favorite on BeFreeForMe goes to Chimes Ginger Chews. These sweet, but spice chews are the perfect switch for those that like a fresh taste, without a minty flavor.
The Chimes Ginger Chews are gluten-free, individually wrapped, and contain only 3 grams of sugar per piece. The original flavor contains only three ingredients: Cane Sugar, Choice Ginger and Tapioca Starch. Simple goodness.
I love that these ginger chews contain no artificial flavors, and not only come in an Original ginger flavor, but also some other exciting ones such as Peppermint, Peanut Butter, Orange, and my favorite, Mango.
I like to carry a few of these chews in my purse. They are great for an afternoon pick-me-up, and even for soothing a troubled tummy.
All these reasons are why this week's BeFreeForMe's Friday Favorite goes to  Chime's Ginger Chews. Cheers!
Want to buy this product now? Check out these links on Amazon.com and take advantage of Free Super-Saver Shipping!
To Purchase a single bag: Chimes Original Ginger Chews, 5-Ounce Bag
To Purchase a 5-pound box: Chimes Original Ginger Chews, 5-pound Box, 5-Pound Box
Tags: Chimes Ginger Chews, Friday Favorites, Gluten-free ginger chews