Quick & Easy Gluten-Free Tomato Soup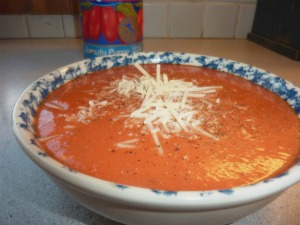 Even though spring is right around the corner, there is still a bit of a chill in the air that a steamy bowl of gluten-free tomato soup can chase right off.
I set out this past weekend to make the perfect bowl of tomato soup –  with just enough tanginess, combined with a touch of sweetness. Creamy, but not too thick, and exactly spiced.
The quest for this perfect bowl of homemade gluten-free Tomato Soup was easier to come by than originally anticipated, hence the namesake, Quick & Easy Tomato Soup. I like that the ingredients are all basic kitchen staples, and the cost to make it is under $10. For a dairy-free version, or for a less- creamy version, eliminate the sour cream (or yogurt), as well as the grated Parmesan cheese garnish.
A perfect lunch? A cup of this soup, paired with a perfectly toasted, ooey and gooey grilled cheese sandwich.
Quick & Easy Tomato Soup
3 tablespoons olive oil
5 garlic cloves, chopped fine
½ to 1 teaspoon red pepper flakes
28-ounce can of 100% pureed tomato
2  5.5-ounce cans of V-8 juice (I used the spicy variety, but you can use regular too)
2 tablespoons sugar
1 tablespoon chopped basil leaves (dried or fresh)
¾ cup of sour cream or plain yogurt (omit for dairy free)
Salt and pepper, to taste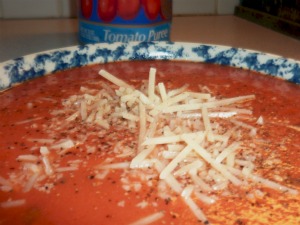 Grated Parmesan cheese, as garnish (omit for dairy free)
In a large saucepan, heat the oil over medium-high heat. Add the chopped garlic and the red pepper flakes. Cook, while stirring constantly, until the garlic starts to lightly brown.
Add the pureed tomatoes, V-8 juice, sugar and the chopped basil.  Season with the salt and pepper. Reduce heat to medium and cook for about 15 minutes, stirring occasionally. Next add the sour cream or yogurt (if using), stir until blended. Cook for another 5 minutes.
Ladle into individual bowls and top with a sprinkle of grated Parmesan Cheese (omit for dairy free).
Serves 4-6.
Tags: gluten-free tomato soup recipe, quick tomato soup recipe