WIN-It-Wednesday: Kinnikinnick Kinni-Kritters Animal Cookies (Plus a bonus!)
Lions, and Tigers and Bears! Oh My! Animal Cookies make an appearance in many of my favorite childhood memories. I'm not real sure if it's the taste of the cookies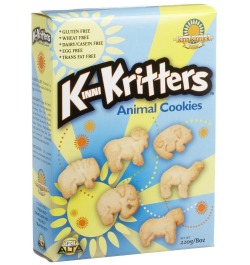 themselves, the surprise of seeing what animal shaped cookie I'd pull out of the box next, or the knowledge that I only was given this favorite treat only when I was extra-specially good…  but Animal Cookies bring back some warm memories.
And thanks to Kinnikinnick, kids that are on a gluten-free, dairy-free and nut-free diet can still experience the flavor and allure of Animal Cookies too.
Kinnikinnick Gluten-Free Animal Cookies come in two great flavors: the original vanilla and chocolate. Another bonus is that these cookies are not only gluten-free, but also nut-free and dairy-free.
That's why I was so excited when I discovered that Kinninkinnick Kinni-Kritters Animal Cookies were sponsoring the next two week's WIN-It-Wednesday on BeFreeForMe.com.
Two lucky winners will win a package of these delicious cookies, PLUS a bonus package of either the KinniKinnick Kinni-Toos Chocoalte Sandwich Crème Cookies OR Chocolate Chip Cookies.
How can you win?
Easy!
Reply to this blog and tell us your favorite cookie memory (it can be about your memory of Animal Cookies, baking, a certain kind of cookie, fun cookie stories… anything!) Me? One of my fondest memories is sitting in the grocery cart eating Animal Crackers with my sisters. (Funny how I also remember us eating the heads off first! HA!) Crazy the things simple things that you sometimes remember!
One (1) winner will be randomly selected from the entries received before Tuesday, March 27, 2012 at 11:59 PM EST, and one (1) more winner will be randomly selected to win from the entries received between Wednesday, March 28 and Tuesday, April 3, 2012 at 11:59PM. SO – make sure you enter to win two times!
Good luck, When you need to bite someone's head off reach for an Animal Cookie… and as always…
Be Free!
Note: Want to buy some Kinnikinnick Cookies for yourself? Check out these links on Amazon.com, have it delivered right to your door, AND get FREE SUPER SAVER SHIPPING!
Kinnikinnick Foods KinniKritters Animal Cookies, Gluten Free, Wheat Free, Dairy Free, 8-Ounce Box (Pack of 6)

Kinnikinnick Cookie – Chocolate Animal Gluten Free, 8-Ounce (Pack of 6)

KinniToos Chocolate Sandwich Creme, 8-Ounce Packages (Pack of 6)

KinnitToos Vanilla Sandwich Creme, 8-Ounce Packages (Pack of 6)

Kinnitoos Cookie – Fudge Cream Sandwich Gluten Free, 8-Ounce (Pack of 3)
Tags: Gluten-Free Animal Cookies, Gluten-Free Animal Crackers, Kinnikinnick Animal Cookies, Win-It-Wednesday