Friday Favorite: True Lemon Crystallized Lemon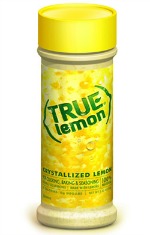 Water, water, water! It never seems that I can get enough. I know I should be drinking more of it… but sometimes plain old water is just so… boring.
That's why I was so excited when I found True Lemon – crystallized real lemon that can be sprinkled in water any time, anywhere. A sprinkle here and a sprinkle there, and like crystallized fairy dust I was magically consuming, effortlessly, the amount of water I should be on a daily basis.
But this is only the beginning of my true love affair with True Lemon.
Although True Lemon is a perfect addition to water, it is also great in recipes and other drinks too. True Lemon is great sprinkled on vegetables on the grill, iced teas, grilled salmon and salads. The ideas to use True Lemon are endless. True Lemon is a fantastic way to get real lemon taste with no mess and no hassle.
Want another bonus use? Sprinkle True Lemon on cut apples, avocados and other fruit to stop browning!
True Lemon is 100% natural and has no calories, no gluten, no artificial ingredients or sweeteners, no preservatives and no sodium.
Along with True Lemon make sure you check out all the other great flavors: True Lime (love this in my salsa!) and True Orange (love it sprinkled on my oatmeal!).
All of these true love reasons are why this week's Friday Favorite honor goes to True Lemon! Thanks for sprinkling me with love and …. Congrats!
Check out these links on Amazon.com and get FREE Super-Saver Shipping:
True Lemon Kit
(Great for on-the-go: Single serve packets – one box each of True Lemon, True Lime and True Orange)
Shakers Kit
(Great for cooking and baking: Two Shakers – One each of True Lemon and True Lime)
Tags: Crystallized Lemon, Crystallized Lime, Crystallized orange, Friday Favorites, Is True Lemon gluten free?, lemon flavoring for water, True Lemon