Win-It-Wednesday: Garden Lites Soufflés
This week's Win-It-Wednesday is sponsored by a product I LOVE! Garden Lites Souffles.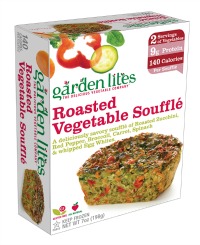 If you've already tried these soufflés, you can understand my love for them; and if you haven't tried them yet, you must.
Garden Lites Souffles are perfection both for the taste buds, your health and your waist line. Packed with tons of vegetables, egg whites and just the right amount of spices, these soufflés have only all natural ingredients and microwave in just minutes. They come in 9 flavors – including the flavors I have loved for years –  Broccoli, Roasted Vegetable, Zucchini, Spinach, Cauliflower, Butternut Squash and the newest flavors –  Carrot Raisin, Pizza and Southwestern.  These gluten & nut-free soufflés are pockets of scrumptious veggies puffed to perfection.
Watching your points? No worries! These soufflés are 4 or 5 Weight Watcher Point Plus points per soufflé. =)
I love having one of these all natural soufflés for lunch with a small tossed salad. They are filling, healthy and contribute to a tasty lunch that I can feel good about eating. My favorite is the Roasted Vegetable Souffle; and paired with my tossed salad it's like having a garden party right on my lunch table.
I also love that each Garden Lites soufflé offers up two whole servings of vegetables. What a delicious way to eat your veggies!
All these healthy, delicious, low-calorie and low-fat reasons are why I am so thrilled that Garden Lites is this week's Win-It-Wednesday sponsor on BeFreeForMe.com.
And check out these prizes! A total of two (2) BeFreeForMe members will be selected to win a Garden Lite Tote Bag packed with 9 … Yes! nine…  (one of each flavor) of the Garden Lite Souffles. One winner will be randomly selected from the entries received before Tuesday, July 31, 2012 at 11:59 PM EST, and one more winners will be randomly selected to win from the entries received between Wednesday, August 1 and Tuesday, August 7, 2012 at 11:59 PM. SO – make sure you enter to win two times!
How can you win?
Easy?
Reply to this blog and let us know what flavor of the Garden Lite Souffle sounds the best to you.
Good luck, find delicious ways to eat those veggies =) … and as always,
Be Free!
P.S. Want to buy? Click here to find a store near you. Also, keep in touch and follow Garden Lite on Facebook!
Tags: Gluten Free Garden Lite Souffles, Gluten-free Souffles, Win-It-Wednesday