Friday Favorite: Alo Drink – 100% All Natural Gluten-Free Aloe Vera Pulp & Juice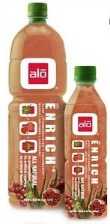 Today's Friday Favorite on BeFreeForMe.com is awarded to Alo Drinks. Made with 100% All Natural Aloe Vera pulp and juice this gluten-free drink is the perfect way to naturally hydrate. Aloe Vera is also naturally rich with amino acids, minerals and vitamins.
Alo Drinks uses real aloe vera juice made straight from the leaf, never from powder. Along with the aloe, these drinks are blended with just enough all-natural flavors to give each variety a unique and flavorful taste. My favorites are the Aloe with Pineapple + Guava + Seabuckthorn Berry and the Aloe with Pomegranate + Cranberry.
I love the flavor combos, the little pieces of pulp and all the glorious & healthy reasons to start drinking aloe… every day!
Cheers Alo Drinks for being this week's Friday Favorite on BeFreeForMe.com!
Want to Buy Alo Drinks? Check out this link on Amazon.com