Friday Favorite: Ocean Spray Craisins
I love cranberries. Growing up in Southeastern Massachusetts we had cranberry bogs everywhere. Cranberries are a staple in my diet. Always have been and always will.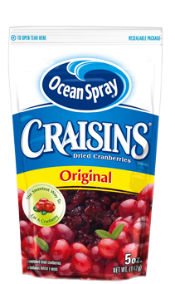 Maybe that's why Craisins are a must in my gluten-free diet. Made by Ocean Spray these real fruit berries are the sweetest way ever to eat a cranberry.
I like to top my salads with Craisins, sprinkle them on baked chicken breasts stuffed with goat cheese, or add a handful into Gluten-Free Oatmeal Cookies. The ideas are endless.
Naturally gluten-free, peanut free and containing no artificial colors, flavors or preservatives, Craisins are perfect for snacking too. Craisins are also a good source of fiber, which is an added bonus.
All these delicious & healthy reasons are why Ocean Spray Craisins are awarded this week's Friday Favorite on BeFreeForMe.com. Cheers!
Tags: Are Craisins gluten free?, Friday Favorites, Ocean Spray Craisins