Friday Favorite: YumEarth Naturals Gummy Bears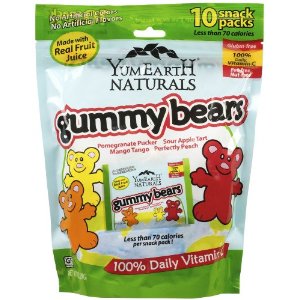 This week's Friday Favorite on BeFreeForMe.com is awarded to YumEarth Naturals, the makers of candy that is free of gluten, tree nuts & peanuts, soy & dairy.
And as an added bonus all the YumEarth Naturals products are also free of fat, MSG… and even fat.
Some of the products that they make are lollipops that, according to Phil Lempert, the Food Trends Editor for NBC's Today show and also known as the "SupermarketGuru" are "The best lollipop I've ever tasted." They also make sour jelly beans, and my favorite… the gummy bears.
The gummy bears are also made with real fruit juice, have no artificial flavors or colors, and supply 100% of the daily requirement of Vitamin C. YumEarth also has an extensive list of allergen certifications on their website.
In particular I like the bag of gummy bears that contains 10 snack packs containing 4 grown-up, yet kid-friendly, flavors of gummy bears – Pomegranate Pucker, Sour Apple Tart, Mango Tango and Perfectly Peach. All of them provide an unexpected burst of flavor – unlike any other gummy bear brands.
Each snack pack is less than 70 calories per pack, so they are perfect for snacking.
All of these yummy, gummy reasons are why this week's Friday Favorite is awarded to YumEarth Naturals Gummy Bears. Congratulations!
Want to buy YumEarth Naturals Gummy Bears? Check out this link on Amazon.com: YumEarth Natural Gummy Bears
Tags: allergen free candy, Friday Favorites, Gluten free candy, nut free candy, peanut free candy, Yummy Earth Naturals