Friday Favorite: Pamela's Whenever Bars (Gluten-Free, Dairy-Free)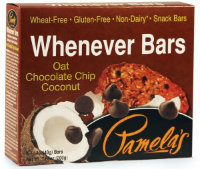 If you're like me and need a bar on hand for "whenever" I might need it – you'll love Pamela's Whenever Bars.
These bars are super moist, and taste like they are homemade. I love that the consistency is cookie-like, but are low in cholesterol, are a good source of fiber & whole grains and have no trans fat. Another bonus is that these bars are sweetened with agave and coconut sugar.
Kid (and adult!) approved… Pamela's Whenever Bars are perfect "whenever"… including breakfast and snacking.
My favorite variety is the Oat Chocolate Chip Coconut (they have just the right amount of coconut!), but other yummy flavors include: Oat Blueberry Lemon, Oat Cranberry Almond and Oat Raisin Almond Spice (some PERFECT varieties for a breakfast on the go!)
Congratulations Pamela's for being recognized as this week's Friday Favorite on BeFreeForMe.com!
Tags: Gluten free and dairy free bars, Gluten free breakfast bars, Pamela's Whenever Bars