Tuesday, December 12th, 2017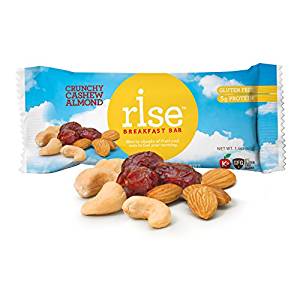 This is a crazy time of year with the hustle and bustle of the Holidays. So anything that makes my life more simplified is a good thing for me!
And Rise Breakfast Bars makes my day start out so much easier. These bars are my rise and shine of a quick and easy breakfast!
Rise Breakfast bars are made for breakfasts on the run. They're super good and made of hearty chunks of fruit and nuts. They make breakfast simply, deliciously easy!
Other bonuses? The Rise Bars are gluten-free, soy free and have no artificial ingredients.
All of these reasons are why I am so excited to share a two pack of Rise Breakfast Bars with two lucky members. One (1) winner will be randomly selected from the entries received before Tuesday, December 19, 2017 at 11:59 PM EST, and one (1) more winner will be randomly selected to win from the entries received between Wednesday, December 20 and Tuesday, December 26, 2017 at 11:59PM. SO – make sure you enter two times to win!
How can you win?
Easy!
Reply to this blog and tell us the Rise breakfast bar flavor that looks the best to you… is it the Cashew Almond? The Macadamia Pineapple? Cranberry Apple? Or my favorite, the Perfect Pumpkin (Made with pumpkin seeds!)
Good luck, always shine every morn when you rise, and … of course, Be Free!