WIN-It-Wednesday: Shabtai Gourmet Bakery Sweets
This weeks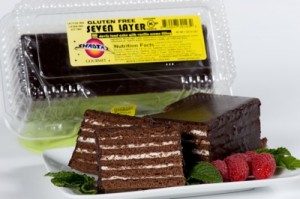 WIN-It-Wednesday's sponsor is Shabtai Gourmet. If you haven't tried these bakery items yet – you MUST! Shabtai Gourmet bakery makes being gluten and allergen free so much easier!
These products are D-E-L-I-C-I-O-U-S. When I first tried the Shabtai items at a Trade show last October, I had to ask them (O.K. – I admit it, I asked several times) if they were absolutely positively certain the item I was eating was gluten free. They are just THAT good! 
Plus… All of the ingredients that pass through their doors are gluten, casein, lactose, soy and dairy free. Pretty sweet, huh?
Shabtai Gourmet's bakery is also a designated peanut-free and gluten-free zone. They are also certified Kosher for Passover and Kosher Parve – otherwise known as Dairy Free – by the OK Kosher Supervision.
BeFreeForMe also featured a great Tiramasu recipe a while back, made with Shabtai Lady Fingers.
The sweet WIN-It-Wednesday prize that Shabtai is offering to THREE (3) randomly selected LUCKY BeFreeForMe MEMBERS is a free box of sweets, which includes all of the following yummy items:
One (1) Devil Foods Seven Layer Cake: The description says this chocolate cake smothered with dark chocolate and sandwiched in crème, is fancy enough for company. (So why can't I stop picturing myself standing solo at the counter, fork-in-hand, digging right in?)
One (1) box of Italian Tricolor Rainbow Squares: Light spongy layers, separated by raspberry jam, and covered in rich dark chocolate. My Italian grandparents would have loved these!
One (1) box of Black & White Cookies: The famous double-dipped Black & Whites are a classic New York treat (And who said doubling-dipping was bad?)
How can you Win?
Reply to this blog and tell us what makes your world so much sweeter since being gluten or allergen free. (Me? Sharing recipes and meals (which equates to spending time!) with my celiac-sister; and really appreciating a big piece of juicy, sweet, super-ripe fruit on a summer day).
The contest ends on Sunday, July 19, 2009 at 12:00 midnight EST.
Another SWEET DEAL? FREE SHIPPING!
Even if you don't win, there is FREE SHIPPING on ALL Shabtai Gourmet products until Labor Day (09-07-09). Make sure you mention you saw this deal on BeFreeForMe when ordering! Stock up now for back to school lunch boxes!
Tags: Shabtai Gourmet, Win-It-Wednesday