Friday Favorite: Honeycup Mustard
It's funny how condiments can make a gluten free or allergen free world that much… well, happier! Condiments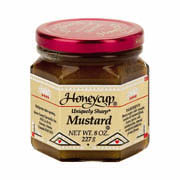 can make the sometimes ho-hum world of gluten or allergen free living come to life.
This week's Friday favorite is another old standby for me. Honeycup Mustard is the sunshine in my gluten-free pantry. Plus, the usefulness of this mustard makes it a staple that I can't live without.
Honeycup Uniquely Sharp Mustard is gluten free, egg free, sesame free, nut free, dairy free, plus kosher. It is perfect smothered over chicken before baking or used as a dip for gluten-free pretzels.
My favorite though is as a topping for deli meat, cheese and veggies that is wrapped in large leaf lettuce. It gives just enough "zip" to turn it into a satisfying and tasty sandwich alternative.
Who needs the bread when a condiment like this can steal the show?
If you want to find out more about this mustard, or order some for yourself, you can find it at their distributor, World Foods or call the folks at Stone County Specialties at (416) 447-9664.