Friday Favorite: Fruit Infusion Pitcher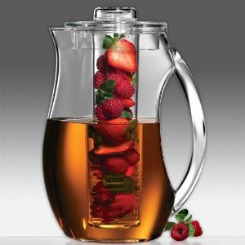 This week's Friday Favorite is a repeat of a past Friday Favorite honoree. Why? Because it is truly one of my all-time favorite products that I really, really can't live without! My fruit infusion pitcher.
When there is a heat wave and the temperature is pushing the 100 degree mark, there's nothing like a tall, cold glass of water. But let's face it… plain water can be just that… plain old boring.
That is why I snagged myself one of these pitchers on Amazon.com that lets you infuse your own real fruit, herbs and veggies – quickly and easily.
The concept is easy & inexpensive. You cut up your own fruit, veggies, herbs… creativeness at its best… and add them to the infuser section in the pitcher. Within a few hours (but it can take up to 24 hours for some fruits/veggies) you have crisp, flavored water that is super yummy, super healthy (since you have control over the ingredients you put in) and super cheap to make!
I can't say enough about this pitcher and have been dreaming-up different flavor-concoctions since I got it. Some of my favorites so far? Apple & Mint; Basil-Cucumber; Lemon-Ginger; Strawberry-Kiwi; Green Tea & Tangerine; and Honeydew-Mint. In fact, I like so many mixtures I think I might have to get a second pitcher to have two flavors going at the same time!
The fruit/veggies that I add to the infuser lasts for about 1-week, but I find it helpful to add more water to the pitcher every time I pour myself a glass, to keep the water continually infused and nicely flavored.
I just checked and it is now on sale on Amazon.com for $19.99 (Regular price is $25) and qualifies for free Super Saver Shipping.
It's not too often I rave about something other than food on my Friday Favorite column, but this pitcher is must-have for anyone trying to drink more water! So this week I lift my glass of fruit infused water and congratulate Prodyne Fruit Infusion Pitcher for being this week's Friday Favorite on BeFreeForMe.com!
Want to buy on Amazon.com? Check out this link: Prodyne Fruit Infusion 93-Ounce Natural Fruit Flavor Pitcher
Tags: Friday Favorites, Fruit water, How to make your own infused water?, plastic pitcher with fruit infusion