WIN-It-Wednesday: Omega Smart Original Nutrition Bars
Featured this week on BeFreeForMe's WIN-It-Wednesday is a nutrition bar that I recently discovered –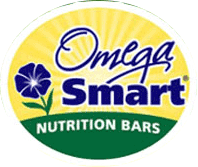 Omega Smart Original Nutrition Bars.
Not only do these bars have some yummy flavors (Pomegranate Strawberry Colada, Banana Chocolate Chip, and Carrot Cake – which are my favorites) they are also a smart choice for breakfast, snack or mini-meal since they are so very good for you!
These nutrient dense bars are made of whole foods. So when I grab a Carrot Cake, Cinnamon Apple or Raisin Spice bar for a breakfast-on-the-go, I know I've made a smart choice since I stay satisfied and full right until lunchtime.
Some other great features of the Omega Smart Original Nutrition Bars are:
– Gluten free (made in a designated GF facility and all ingredients are certified GF)
– Egg free
– Dairy free
– Casein free
– Cholesterol free
– Rich in antioxidants
– Low glycemic (Good for those diabetics following a low glycemic diet)
– No refined sugars
– No trans fats
– Bars contain 2,000 grams of Omega 3's
Note: The Banana Chocolate Chip & Pomegranate Strawberry Colada Nutrition bars are also soy & nut free. The Pumpkin Spice is also soy free.
Two (2) LUCKY BeFreeForMe MEMBERS will win a box (12 bars) of Omega Smart Bars of their choice! (Note: The winners can pick any combo of the Omega Smart Original bars!)
How can you win?
Easy! Just reply to this blog and tell us what flavor Omega Smart Bars sound the yummiest to you and/or your smart tip for eating or living gluten / allergen free! (Mine? Use your gluten free diet or allergy to explore & try new foods you've never tried before!)
You must enter to win before Sunday, 07/26/09 at 12:00 midnight EST.
Good Luck, Be Smart and, as always…
Be Free!
Tags: Omega Smart Bars, Win-It-Wednesday