Friday Favorite: Earthly Choice Easy Quinoa
This week's Friday Favorite is Nature's Choice Easy Quinoa, a product that is a "keeper" since it received the thumbs-up from the non-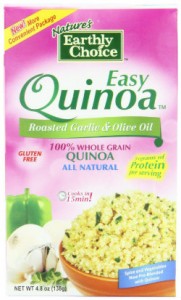 gluten-free folks!
Nature's Earthly Choice Quinoa is one of those products that no one can believe is gluten-free.  It's a tasty, delicious and quick to prepare product that is perfect for a side dish or even "doctored-up" with pieces of chicken, pork, beef, or veggies to become a shining-star main course.
And they have created four delicious recipes of Easy Quinoa. The flavors are all gluten-free and include; Garden Vegetable, Mediterranean & Vegetable Medley, Sundried Tomato Florentine, and my favorite, Roasted Garlic & Olive Oil.
Easy Quinoa is convenient, great-tasting and easy-to-prepare… and for all these reasons they are being awarded this week's Friday Favorite on BeFreeForMe.com. Congratulations!
Want to buy? Check out this link on Amazon.com
Tags: Easy Quinoa side dish, Friday Favorites, Gluten-free side dishes