Win-It-Wednesday: Club House Gluten-Free Gravy Mixes & Baking Products
Good Gravy! It's tough being gluten-free for the holidays. All the baking, the roasts, the turkeys, the fixings… it can leave a gluten-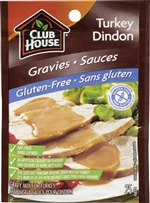 free gal like me wondering when holiday cooking and baking will get easier and more convenient.
Well wonder no more. Thankfully, Club House has recently come out with some gluten-free products to make our holidays… and our lives a heck of a lot easier. Thank you, Club House!
The gluten-free products that Club House has recently come out with are the Brown Gravy, the Turkey Gravy, Rice Flour, Potato Starch and Minute Tapioca. It's also important to note that Club House, which is McCormick Canada – the largest spice, dry sauce, seasoning extract and specialty food operation in Canada – has become one of the growing number of companies that has become certified by the Gluten-Free Certification Program (GFCP) with the introduction of this line of gluten-free products (which will be available at grocery stores across North America).
I love the new gravy mixes. Why? They taste great, and they help me make my holidays meal prep a lot more simple. Gluten-free folks everywhere can now enjoy gravy on their Thanksgiving turkey or holiday roasts without all the fuss, mixing, whisking and lumps. These gravies also contain no artificial colors and flavors, and have 25% less sodium than the Club House original gravies.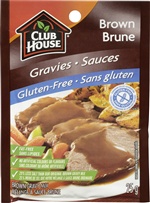 The flours are awesome too. Want to try some chewy and fudgy Gluten-Free Brownies? Then grab a bag of Club House Potato Starch and get baking. How about making some Classic Gluten-Free Shortbread Cookies and packaging them up in a gift basket with an assortment of teas for a thoughtful, yet thrifty, gluten-free gift idea; or for a quick and easy dessert for a weekday (because desserts should not be reserved for special occasions only!) try making some Gluten-Free Tapioca Pudding with Club House's Minute Tapioca.
The convenience of the Club House gluten free gravy mixes and the ease in baking-up gluten-free classic desserts are why I am so excited and thankful that this Win-It-Wednesday on BeFreeForMe.com is sponsored by Club House.
A total of FOUR (Yes… 4!) BeFreeForMe members will be selected to win a prize pack containing the Club House Gluten-Free Gravy Mixes (both the brown gravy and the gravy for Turkey), Minute Tapioca, Potato Starch and the Rice Flour. This prize pack is bursting at the gluten-free seams with holiday goodness! Two (2) winners will be randomly selected from the entries received before Tuesday, November 5, 2013 at 11:59 PM EST; Two (2) more winners will be randomly selected to win from the entries received between Wednesday, November 6 and Tuesday, November 12, 2013 at 11:59. SO make sure that you enter to win two times!
How can you win?
Easy!
Reply to this blog and tell us one thing (even the simpliest thing) that you are thankful for. (Me? I am thankful for the happy, cheery and smiling gal that serves me every day at my local coffee shop. Through thick, or thin, her smile is always there!)
Good luck, be mindful of and thankful for those little things… and as always…
Be Free!
Tags: Club House Gluten-Free Products, Gluten-Free Gravy Mix, Gluten-Free Shortbread Cookies, McCormick Gluten-Free Products, Win-It-Wednesday