Thursday, November 6th, 2014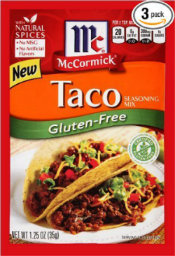 It's Taco Night once again in gluten-free households across the country! How about that all my gluten-free amigos?
Thanks to McCormack spices and seasonings all of us gluten-free folks out there can enjoy tacos, burritos, enchiladas and even a gluten-free Grilled Fajita Salad or a Seven Layer Fiesta Dip thanks to the folks over at McCormick.
The new Gluten-Free Taco Seasoning contains natural spices such as chili pepper, cumin, paprika and oregano. It is also free of MSG, and has no artificial flavors. Other new gluten-free items that McCormick makes are Chili Seasoing Mix, and Brown and Turkey Gravies.
So break out those gluten-free taco shells, and fill 'em up with taco seasoned ground beef and all your favorite gluten-free fixins'! Congrats (and Gracias!) to McCormick for being named this week's Friday Favorite!
Want to buy now? Check out this link on Amazon.com and take advantage of FREE Super-Saver Shipping!