Friday Favorite: Righteously Raw Chocolate
If you are a chocolate lover you are aboslutly going to adore this week's Friday Favorite on BeFreeForMe.com!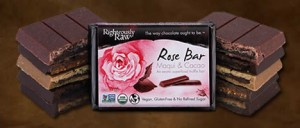 Righteously Raw's slogan is "the way chocolate ought to be"… and they are spot on. Certified gluten-free, organic, non-GMO, vegan and kosher, this chocolate is also free of the top 8 allergens and contain no refined sugars.
The flavors are also too good to be true. These "adult-like" varieties are super creative and made for the adult palate. Maca, Pure Dark, Goji, Caramel, Acai and my favorite, Rose are all sure to please.
All of these reasons are the reasons why this week's Friday Favorite is awarded to Righteously Raw! Congratulations!