Sunday, August 22nd, 2010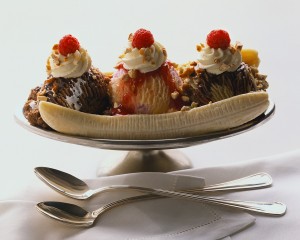 In the crazy and hazy days of mid-August most of us enjoy a scoop of good ice cream. Our favorite flavors topped with sprinkles, or mixed in with our favorite allergen or gluten free add-in's make the whole ice cream experience something to scream about.
But often times, when a food allergy, intolerance or celiac disease is involved a trip to the local ice cream parlor can turn into a plain old vanilla type of experience. Plus, the cost of treating a family to ice cream can be another reason to scream.
That is why I love to host my own ice cream parlor style Ice Cream Socials. As with anything you make, bake or cook at home, versus dining out, you have complete control over what food is on the menu, and also how it is prepared and served.
The concept of having an ice cream social is simple. Just remember to keep the any items you serve at the ice cream social away from all other items that impose an allergy concern (i.e. keep the nuts, on a completely different counter top, or better yet, omit them completely, if nut-allergies are a concern), also make sure that you prevent any cross-contamination issues, by providing separate serving spoons or ice cream scoops for every item served.
When planning your Ice Cream Social, make sure you have a large enough area to set up "salad bar" style. The idea is to have your guests mix and match their toppings based upon their tastes and allergens. Have the guest form a line "buffet style" to serve themselves. Here are a few pointers to make your ice Cream Social a screaming success:
Take Orders: Consult your guests to find out if they are concerned with any food allergies prior to choosing what ingredients will become part of your ice cream buffet. Also, make sure you keep the labels and packaging in case someone wants to read the items ingredients.
Start with the Basics: Select a few type of basic ice creams to serve, or non-dairy ice cream, if a dairy allergy or intolerance is an issue. Chocolate, Vanilla, Strawberry & Coffee, are good choices. Some of my favorite types of gluten-free ice cream include Edy's and Hood, which also makes a Lactaid Ice Cream, which is free of lactose too. Also, a really good dairy-free ice cream is Rice Dream. Whatever type you choose, set it out a few minutes before serving for easier scooping.
Mix-ins: Next start with the mix-ins. Gluten free cookies from Glutino or Allergen free cookies from Home Free are great cookie mix-in choices. I also love the Cinnamon riceworks brown Rice Crisps as mix in's too – plus they are full of fiber! Other mix-in ideas include M&M's, jelly beans, gum balls or Skittles. Mix it up and get creative!
Topping: toppings can include, traditional sprinkles (or jimmies), candy, nuts (if nut allergies are not a concern), whip cream, hot fudge, caramel, popcorn,  marshmallow fluff, gluten free cereal, shredded coconut, fruit (canned, frozen or fresh), and of course… maraschino cherries!
Think outside of the bowl: Let your guests make Ice Cream Sodas, Root Beer Floats, cones and milkshakes too, by supplying a blender, tall glasses, straws, gluten and allergen free ice cream cones, milk (soy milk, if dairy is an issue) and root beer.
Menu: Some people, especially kids, may get overwhelmed trying to figure out what kind of sundae to make. This is when you can help out! Make up some "recipes" for suggested sundae ideas on index cards, and scatter them along the sundae making table.
Some of my favorite sundae concoctions?
Pina Colada = Vanilla Ice Cream (or dairy free substitute) + Canned Pineapple + Shredded Coconut
Snickers = Chocolate Ice Cream (or dairy free substitute) + Caramel Sauce + Hot Fudge + Peanuts
Classic Banana Split =  One scoop of Vanilla Ice Cream (or dairy free substitute) + One scoop of Chocolate Ice Cream (or dairy free substitute) + One scoop of Strawberry Ice Cream (or dairy free substitute) + Banana + Caramel Sauce + Hot Fudge Sauce + Frozen Strawberries (thawed with juices) + whipped cream + nuts (optional, omit for nut free)
Cherry Crisp = Vanilla Ice Cream (or dairy free substitute) +  Canned Pie Cherries + dollops of cooked gluten-free oatmeal + sprinkle of cinnamon
Triple Chocolate Brownie = Chocolate Ice Cream (or dairy free substitute) + Gluten-free Chocolate Brownie (heated) + Hot Fudge + whipped cream (optional) + Chocolate sprinkles
Classic Hot Fudge = Vanilla Ice Cream (or dairy free substitute) + Hot fudge sauce + whipped cream + chopped walnuts (optional, omit for nut-free) = maraschino cherry
What is your favorite kind of ice cream, and ways to enjoy it?