Thursday, February 6th, 2014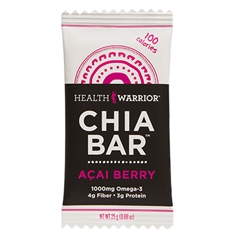 Looking for a quick gluten-free, dairy-free and soy-free snack? Need a quick mid-morning pick-me-up that is vegan and high in Omega-3's? If the answer is yes… you need to check out Chia Bars from Health Warrier.
These bars are small, about 2.5" x 2", but don't let the size fool you. Chia, you see, is one of the most nutrient-dense foods on the planet. So these little bars really pack a punch when it comes to nutrition and making you feel full and satisfied.
I love that these Health Warrior Chia Bars are also only 100 calories each, 100% natural and contain 1000 milligrams of Omeaga-3's. They are also Certified Gluten-Free. The bars come in several  flavors too… Acai Berry, Coconut, Banana Nut, Coffee, Chocolate Peanut Butter, and my favorite, Apple Cinnamon.
Another bonus… Health Warrior also sells their own chia seeds so you can make your own chia-licious recipes. Some of my favorite recipes you need to try include this Chia Banana Breakfast Bowl and these Health Warrior Banana Nut Muffins.
For being a tasty and feel-good- about-yourself snack option is why this week's Friday Favorite is awarded to Health Warrior Chia Bars. Congratulations!
Note: Want to buy Health Warrior Chia Bars? Check out their link on where to buy on their website.