Tuesday, November 27th, 2012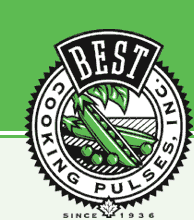 With the Holidays here we're all thinking about baking up a storm. Cookies, cakes, pies and loaves – but since they need to be made gluten-free…alternative flours need to be discovered and explored.
If you're looking for a gluten-free flour that is higher in protein, fiber and rich in micronutrients (including iron, calcium, magnesium and B Vitamins) than most any other gluten-free flour, look no further than Best Kitchen Pulse Flours. And if you're like me, any way that I can incorporate healthier alternatives into my life the better!
Other bonuses are that Best pulses are natural, non-GMO, certified-organic and kosher.
I was unfamiliar with pulse flours until Shelley Case introduced them to me a few years back. Shelley explained to me that pulses (also known as legumes) include all types of dried peas & beans, lentils and chickpeas. Frequently overlooked in the gluten-free diet, pulses are one of the most nutritious and versatile foods. They are high in fiber, protein, B vitamins (especially folate), and a variety of minerals-plus they are low in fat, sodium and have a low-glycemic index.
Pulse Flours are simply pulses ground up into flour. I like that Best Kitchen's offers Whole Chickpea and Whole Pea Flours – not split, like so many others. The benefit of Whole Flours is that they include the "seed coat", or the outer husk of the pulses, which contain 90% of the fiber and are loaded with antioxidants. Another bonus: Baking with Whole Flours also gives baked goods more "body" than Split Flours.
All these healthy and flavorful reasons are why I am so glad that Best Kitchen Pulses are this week's WIN-It-Wednesday sponsor on BeFreeForMe.com. Best Kitchen Pulses will provide four (Yes….4!) LUCKY BeFreeForMe members a gift pack of gluten-free flours and fibers, just in time for holiday baking! The gift pack includes:
~ Best Cooking Pulses Apron
~ Best Whole Yellow Pea Flour (1kg)
~ Best Chickpea Flour (1kg)
~ Best Green Split Pea Flour (1kg)
~ Best Pea Fiber (1kg)
~ Naked Yumpeez – roasted split peas shaker (I love to snack on these… or include in baking as a nut substitute, or as a salad topper)
How can you WIN?
Easy!
Reply to this blog and tell us how you incorporate healthy ways into your life (Me? I try to take a nice brisk walk at lunchtime… gets me some exercise, and reduces stress levels!). Four (4) winners will be randomly chosen from entries received before Tuesday, December 4, 2012 at 12:00 midnight EST; and two (2) more winners will be randomly chosen from entries received between Wednesday, December 5 and Tuesday, December 11, 2012 at 12:00 midnight EST.
Good Luck, sneak in the healthy alternatives in life whenever possible, as always…
Be Free!
Want some recipes using Best Kitchen Pulses? Check out these links: