Thursday, October 15th, 2009
The chill is in the air here in New England, and, as I write this blog, I am enjoying my mid-day cup of tea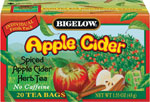 which is nestled in my hands between thoughts as I type away at my keyboard.
Every once in awhile I like to enjoy what I call a "fun cup of tea", something flavored… whether it be sweet, spicy or flowery. But if you are gluten-free it is important to know if barley malt or other flavorings that contain gluten have been added.  
This is where Bigelow Tea comes in… they've made it super easy for all us on a gluten-free diet by offering up a whole gluten-free product page on their website. The teas can be found in most grocery stores, or purchased directly on-line through their website.
Besides the stand-by Earl Grey and Green Tea, my favorite "fun" flavors are the Ginger Snappish, Sweetheart Cinnamon, and the Spiced Apple Cider Herb Tea.
Grab a cup, relax, sit back , take a sip and enjoy… Gluten-free!