Thursday, October 11th, 2012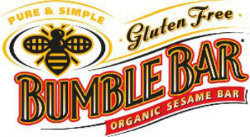 If you're looking for a pure & simple bar that is 1.) Gluten-free 2.) Organic 3.) Dairy-free 4.) Is made with ethically sourced ingredients and is (most importantly) 5.) Delicious – look no further than the Bumble Bar.
This super cool company really cares about sustainability, health and doing business the right-way with the right-people. Giving back and making a difference in this big huge world is important to me… and is important to the folks over at Bumble Bar too. You can read more about the people over at Bumble Bar here (I love reading about and getting to know the people that make the foods I eat, since it gives me that farmer's-market-local-feel).
Bumble Bars come in some great varieties such as Amazing Almond, Chocolate Crisp, Lushus Lemon, Chai Almond and more.
Congratulations to Bumble Bar for making the gluten-free world a pure, simple healthier and tasty place! Thank you!