Thursday, February 27th, 2014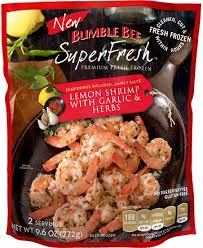 With the Lenten season beginning next week (I know… Can you believe Easter will be here before we know it?) this week's Friday Favorite is awarded to Bumble Bee SuperFresh Fresh Frozen seafood items.
These all-natural and gluten-free seafood items can be found in your grocer's premium frozen seafood section or in the frozen food aisle. The fillets and shrimp comes all cleaned and cut, and it is fresh-frozen within hours.
They are delicious too! Here are the varieties: Salmon with Basil Pesto, Salmon with Garlicky Black Pepper & Extra Virgin Olive Oil, Tilapia with Garlic & Extra Virgin Olive Oil, Tilapia with Lemon Pepper & Herbs, Lemon Shrimp with Garlic & Herbs and Spicy Shrimp Romesco.
I love that this fresh frozen seafood is so convenient, and has some super tasty varieties.  Plus, it can go from freezer to table in 20 minutes or less! Check out their menu ideas too!
Congratulations to Bumble Bee SuperFresh for being this week's Friday Favorite on BeFreeForMe.com!