Thursday, March 25th, 2010
Good Gravy!
I couldn't believe it when I was told by the Customer Service Rep at Butterball that the gravy packet included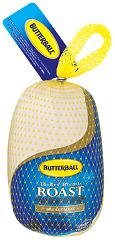 in my Boneless Breast of Turkey Roast was gluten free! What a treat for me! (I called Butterball at 1-800-BUTTERBALL or 800-288-8372).
Besides the bonus gluten-free gravy pack (which is included in a separate pouch) the boneless turkey breast is also delicious…. Moist, flavorful and juicy…. without the hassle of preparing, prepping and cooking a whole turkey.
In fact, the Butterball Boneless Turkey Breast was a snap to prepare. Just pop it in the oven and it is done. No mess. No fuss.
This turkey breast is a welcoming change to weeknight dinners, and will make a fantastic addition to my Easter buffet.
The convenience, taste, and of course that awesome, out of-this world gluten-free gravy packet makes Butterball's Boneless Breast of Turkey Roast this week's Friday Favorite on BeFreeForMe!
Gobble Gobble!