Friday, November 20th, 2009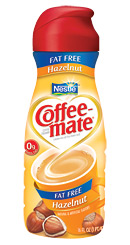 I have recently been making my own coffee each day to save money …and time, since I don't need to stop at the coffee shop.
Plus, there's something nice about brewing your own pot of coffee and leisurely enjoying your morning, while sipping a cup of fresh joe.
But I have to admit I am no coffee-shop barista. Nor do I have the time each morning to even attempt to whip up my flavored, mocha, cappuccino, fancied-up brews that are effortlessly presented to me at my local coffee-shop.
That is why I reach for Coffee-mate liquid creamer.
Coffee-mate has come a long way. It's almost as if the Coffee-mate of my past has undergone a glamorous make-over.
Not just a powdery mixture anymore, my favorite is the Coffee-mate Hazelnut liquid reduced-fat creamer. On the back of the bottle it is clearly marked gluten-free and lactose-free.
Plus, if you visit the Coffee-mate website, you can sign-up to get some great coupons.
Relaxing, easy, delicious, time-saving and money-saving. Ode to good cup of coffee!