Thursday, November 15th, 2012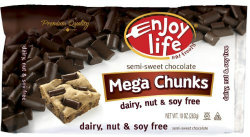 'Tis the season to bake! Get out those mixing bowls, measuring cups, beaters, blenders and whisks… and fire up those ovens!
But if you're concerned with food allergies and celiac disease, baking can become a bit more of challenge. That is why I love the Enjoy Life brand chocolate baking products.
The Enjoy Life products are all free of gluten and the 8 most common allergens, including dairy, peanuts, tree nuts, egg, soy, fish and shellfish. So they are perfect for all kinds of allergen-free holiday baking.
My favorite Enjoy Life baking chocolate is the Mega-Chunks – big, chunky, pure chocolate chunks that are perfect in my favorite allergen-free Chocolate Chip Cookie recipe – or even eaten right out of the bag for a quick little morsel "hit" of chocolate when those chocolate cravings strike… and just a little chunk will do ya.
Thanks Enjoy Life Foods for making holiday baking so much easier, and delicious, while cooking gluten and allergen free! For this BeFreeForMe.com is awarding you this week's Friday Favorite on BeFreeForMe.com! Cheers!
Want to buy now? Check out these links on Amazon.com:
Enjoy Life Semi-Sweet Chocolate Chips, Gluten, Dairy, Nut & Soy Free, Mini Chips, 10-Ounce Bags (Pack of 6)
Enjoy Life Semi Sweet Chocolate Mega Chunks, 10-Ounce (Pack of 6)