Thursday, February 16th, 2012
I love chocolate. But unfortunately chocolate is one of those things on my "only eat once in a while" list, especially when I am watching what I eat.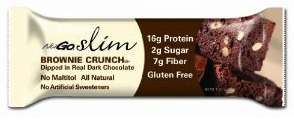 That is why I was so excited when NuGo came out with their Slim Bars. These bars that are made with real dark chocolate, have almost no sugar and contain no Maltitol or artificial sweeteners. Diabetic friendly, gluten-free and only 2-grams of sugar (which comes from the real dark chocolate) these bars are delicious and perfect for celiacs and diabetics.
NuGo Slim Bars, which are this week's Friday Favorite pick on BeFreeForMe.com, are each packed with 15 grams of protein and 9-10 grams of fiber – so they are a perfect mid-day snack. They come in three great flavors – Brownie Crunch (my favorite), Raspberry Truffle and Roasted Peanut.
With NuGo Slim Bars I can have my chocolate… and enjoy every single delicious bite…. Guilt free!
Congrats!
Want to buy NuGo Slim Bars today? Check out this link on Amazon.com and take advantage of the SuperSaver Free Shipping: NuGO Slim Brownie Crunch, 1.59-Ounce (Pack of 12)