Monday, October 27th, 2008
One of the things I hear the most that people miss after getting diagnosed with celiac disease or food allergies is the inability to have a quick, satisfying and healthy meal at their fingertips… the kind of prepared dinner that can be put in the microwave or oven and done in minutes time.
Well… get those microwaves and ovens warmed up! I found some true keepers!
These items are a bit pricey, but then again time is money. I will be on the look-out for specials and coupons for these items for the BeFreeForMe members – so stayed tuned!
Kettle Cuisine Soups: GF (http://www.kettlecuisine.com)
The Angus Steak Chili with Beans and the Chicken Soup with Rice Noodles is also DF.
Kettle Cuisine is a peanut free facility.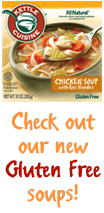 This soup has been an all time favorite of mine for many years! I was so excited to see that Kettle Cuisine has come out with single serving soup cups that are perfect for a gal like me that is always on the go!
The soups come frozen and can be quickly cooked in a microwave for quick and easy lunches or dinners. These are going to be a staple in my freezer all winter long.
My favorite is the Angus Steak Chili with Beans – which is packed not only with tons of protein, but flavor as well. This variety is also dairy free. This chili is a "meal" that satisfies. Coming in a close second is the Grilled Chicken and Corn Chowder. I love its richness and spiciness. The chicken used is also free of chicken antibiotics or growth hormones – which is always a plus with me.
Organic Bistro Whole Life Meals: GF (http://www.TheOrganicBistro.com)
I love these meals! What I love the most about them is that they have a "main course" along with two sides which consist of a type of rice and also a veggie. This to me is the composition of the microwavable meals I used to eat prior to my gluten free life.
The only difference is that these meals taste fresh and crisp… unlike any other frozen glutenized meal.
Organic Bistro meals are not only easy to prepare and have eight delicious gluten free varieties they are also all natural and use only organic ingredients that are rich in fiber, whole grains, lean protein, omega 3 fats, vitamins and minerals.
The varieties offered are: Wild Salmon, Ginger Chicken, Savory Turkey, Sockeye Salmon Cake, Chicken Citron, Spiced Chicken Morocco, Jamaican Shrimp Cake and Pasta Pattanesca.
With variety like that and a taste that will blow anyone away it is hard to believe these meals are gluten free. Enjoy!
COUPON / SPECIAL OFFER: As well as being found in the freezer case of your local retailer, you can also purchase them direct from Organic Bistro from their website. Currently there is a special savings of $6.00 off the purchase of six entrees.
Twin Hens Beef Pot Pie: GF, NF, SF, FF (http://www.TwinHens.com)
These are the type of pies you would make yourself if you had the time. The polenta crust adds a nice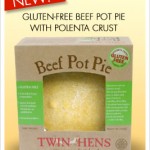 change to a traditional, usually non-gluten free, classic. All ingredients in this pie are items that you have in your kitchen.
The company founders are two busy Moms' that are also professionally trained chefs. These pies simplify the family meal during busy times!
Helen's Kitchen Indian & Asian Meals: GF, DF (http://www.helensfoods.com)
These meals are also free of meat, MSG & GMO's. 
I usually don't go for Indian or Asian entrees, but the organic ingredients and blend of flavorful spices had me hooked on Helen's Kitchen's Thai Red Curry and Indian Curry meals.
Both these meals are certified organic. They are also high in fiber and protein; as well as contain no MSG, trans-fat or GMO's.
The Thai Red Curry is also low in fat and cholesterol, which was a bonus. The rice used in this dish is a brown basmati rice which I like a lot better than the white sticky rice usually associated with asian meals.
The Indian Curry Meal had just enough curry-spiciness and was not overwhelming by any means.
I was pleasantly surprised after trying both of these frozen and easy-to-prepare entrees. I am excited to include these meals on my lunch menu agenda!