Tuesday, August 8th, 2017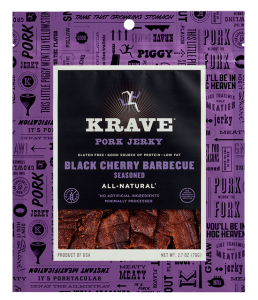 Those of you that have been following me on BeFreeForMe.com for a while just know that I love my jerky! Beef, pork chicken, or turkey… I just love them all. =)
Jerky to me is a quick and easy snack that is packed with protein. The tough part is finding a good quality jerky that is gluten free. And behold, I have found another favorite… Krave Jerky.
Krave Jerky is made in Sonoma, California with gourmet 100% lean cuts of meat and they have the absolute best flavors out there! Some of the flavors that are my favorites include: Garlic Chili Pepper beef, Basil Citrus Turkey, Black Cherry Barbeque Pork, and Honey Habanero Chicken, to name just a few. The best part… ALL are gluten free!
There will be two lucky winners of this Win-It-Wednesday contest. One (1) winner will be randomly selected from the entries received before Tuesday, August 15, 2017 at 11:59 PM EST, and one (1) more winner will be randomly selected to win from the entries received between Wednesday, August 16 and Tuesday, August 22, 2017 at 11:59PM. SO – make sure you enter two times to win! Each winner will receive a bag of the Black Cherry Barbeque Pork Jerky.
How can you win?
Easy!
Reply to this blog and tell us what flavor of the Krave Beef Jerky looks the best to you! (Me? I love the Black Cherry Barbeque Pork Jerky… so yummy!)
Remember it's okay to get a little (beef) jerky… and as always, Be Free!
Want to buy now? Check out these links on Amazon.com: Krave Beef Jerky Variety Pack