Tuesday, August 9th, 2011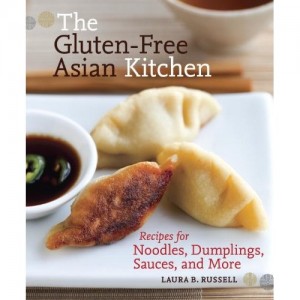 Oh how I miss my Asian foods. Dumplings, Crispy Spring Rolls, Mu-Shu Pork, Potstickers, Kung Pao Chicken and more. Since going gluten-free my take-out orders at my local Chinese restaurant have been bland. At best.
"Steamed Chicken and Veggies, please",  I say with a forced fake smile while ordering my Chinese take-out each week… or should I say Chinese fake-out each week. Come on… really? Who am I kidding? I really, really miss good Chinese and other Asian dishes with all of the flavorful sauces and ingredients that add a burst of flavor and element of surprise.
This is why my fake smile was replaced with a real-life, honest-to-goodness,  ear-to-ear smile when I received an advanced copy of the new cookbook, "The Gluten-Free Asian Kitchen – Recipes for Noodles, Dumplings, Sauces, & More" by Laura B. Russell. Talk about good fortune!
This cookbook is a keeper. As soon as I received it I immediately started reading each and every page oohhing and aahhing over each recipe and every scrumptious photograph. By the time I was at the last recipe – I had tabbed over 2 dozen recipes to make myself.
It's no ancient Chinese secret that Chinese food, as well as Japanese, Korean, Thai and Vietnamese can be jammed packed with gluten and dairy containing ingredients. However, Laura B. Russell does an excellent job of demystifying the most common ingredients used in Asian cooking, as well as supplying tips and tricks to navigate the grocery store; helping find replacements for gluten and dairy ingredients; and ultimately assisting celiacs and dairy-free folks the chance to enjoy Asian cuisine once again.
All these delicious reasons and recipes are why I am thrilled that this week's WIN-It-Wednesday on BeFreeForMe.com is sponsored by Laura B. Russell – the author of  "The Gluten-Free Asian Kitchen – Recipes for Noodles, Dumplings, Sauces, & More".
How can you win?
Easy!
Reply to this blog and tell us what Asian dish (Chinese, Japanese, Korean, Thai or Vietnamese) you miss the most since going gluten and/or dairy free. (Me? Potstickers!)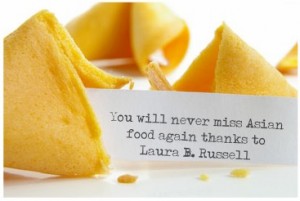 A total of FOUR (Yes… 4!)  BeFreeForMe members will be selected to win the "The Gluten-Free Asian Kitchen – Recipes for Noodles, Dumplings, Sauces, & More" Cookbook. Two (2) winner will be randomly selected from the entries received before Tuesday, August 16, 2011 at 11:59 PM EST, and two (2) more winner will be randomly selected to win from the entries received between Wednesday, August 17 and Tuesday, August  23, 2011 at 11:59PM. SO – make sure you enter to win two times!
Good luck, believe in good fortune… and as always,
Be Free!
Savings Alert! ORDER NOW AND SAVE! Pre-order your copy of "The Gluten-Free Asian Kitchen Cookbook" prior to the title being released on 08/23/11 and SAVE! Amazon.com is now offering this cookbook for only $14.50 which is 37% OFF!  Here is the link to order: The Gluten-Free Asian Kitchen: Recipes for Noodles, Dumplings, Sauces, and More