Thursday, October 3rd, 2013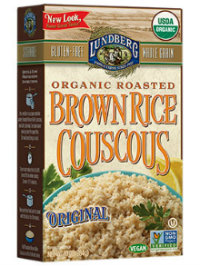 This week's Friday Favorite is awarded to a quick and easy side dish that is perfect for a Fall dinner or in your favorite recipes – Lundberg Brown Rice Couscous.
I often would find recipes that require couscous as an ingredient. And since "typical" couscous is made with semolina it means it's off limits to me since it is full of gluten (semolina are granules of durum wheat).  That is why I was so excited when I found this gluten-free couscous made with roasted brown rice by Lundberg.
The texture is perfect and the taste is fantastic. It is light and fluffy, with a nutty taste. Plus it is quick and easy to prepare.
Check out the recipes on Lundberg's website using this fantastic gluten-free couscous, or try it today in your own favorite recipes. Cheers to Lundberg Brown Rice Gluten-Free Couscous for being awarded this week's Friday Favorite on BeFreeForMe.com!