Tuesday, November 1st, 2016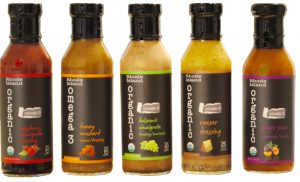 This week's Win-It-Wednesday is sponsored by my new favorite salad dressings… Rhode Island Organics. Just one try of these super healthy and phenomenally tasty dressings, and you'll see why they have quickly become my go-to for my dressings, marinades and dips.
How do I love Rhode Island Organic Dressings? Let me count the ways…
First, and most important, these dressings are made with only the highest-quality ingredients. The oil the use in the dressing is Olive Oil. No cheap filler-oils like canola, corn or soybean are used. Using quality ingredients delivers a superior taste! For an added bonus, they include the omega-3 fatty acids that are recommended for your heart and brain health.
The Rhode Island Organic dressings (with the exception of the Ginger Plum) are certified Gluten-Free. The dressing are also Certified Organic (with the exception of the Honey Mustard), and they are all non-GMO. And if you're worried about added sugar or sweeteners, you need to check out the Caesar and Balsamic Vinaigrette dressings… Both have no sugar or any other sweetener added!
The variety of the gluten-free dressings is awesome too. The gluten-free flavors include Honey Mustard (I love this drizzled over wood planked grilled salmon), Balsamic Vinaigrette (great tossed over fresh salad greens), Raspberry Vinaigrette (Love this over a fresh strawberry salad) and Caesar (a refreshing & organic twist on a classic). The ways to use these dressings are endless!
You need to check out the Rhode Island organics website too. They have some great recipes like the Fall Fresh Green Salad with Dried Cranberries or the Shrimp Salad with Honey Mustard Dressing.
And how does the Rhode Island Organics dressings compare to your dressing? Check out this comparison chart below that I found on the Rhode Islands' Organics Facebook page.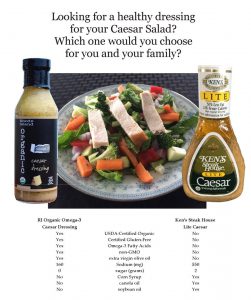 There are so many ways that Rhode Island Organics are far better than all other dressings. And as we New Englanders would say, "You're wicked smaht if you try (and buy!) these dressings!"
And if your feeling lucky… A total of two (2) BeFreeForMe members will be selected to win a two-pack of Rhode Island Organics Dressings.  One winners will be randomly selected from the entries received before Tuesday, November 8, 2016 at 11:59 PM EST, and one more winners will be randomly selected to win from the entries received between Wednesday, November 9 and Tuesday, November 15, 2016 at 11:59 PM. SO – make sure you enter to win two times!
How can you win?
Easy?
Reply to this blog and let us know the two flavors of Rhode Island Organics Dressings you would select if chosen to win or how you would enjoy the dressings (Me? I love the Caesar and the Raspberry Vinaigrette. And I love the Raspberry Vinaigrette with fresh seasonal berries.)
Good luck, stay wicked smaht… and as always…
Be Free!
Follow Rhode Island Organics Dressings on Facebook: https://www.facebook.com/RhodeIslandsOmega3Dressings/
Want to buy Rhode Island Organics Dressings? Take advantage of free Shipping (to the continental US) with an order of $25.00 more on their website.