Thursday, May 15th, 2014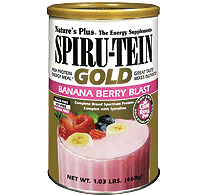 This week's Friday Favorite is awarded to Spiru-Tein Gold, a great tasting high protein meal replacement that I have been counting on for years.
After working out in the morning, I love to blend-up a spoonful or two of Spiru-Tein Gold with some coconut or almond milk, and sometimes even some fresh fruit. With 12 grams of complete protein, Spiru-Tein Gold gives you the much needed energy replacement that your body needs right after a workout.
Spiru-Tein Gold is gluten-free, sugar free and soy free. It is also non-GMO, vegetarian and the protein is derived from whole food sources: chia, rice, pea and flax.
I love the way that Spiu-Tein tastes too. The flavors are great. My favorite is the Banana Berry Blast, but other flavors include Chocolate Cherry, Tropical Fruit, Vanilla, Chocolate and Strawberry.
This week's Friday Favorite gives the energy I need, any time of day. Congratulations for Spiru-Tein Gold!