Thursday, May 16th, 2013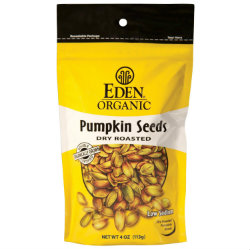 A little sprinkle here… a little snacking there. That is how I like to enjoy Eden Food's Organic Pumpkin Seeds.
Sprinkled on top of my salad at lunch time for an extra crunch, or eaten by the handful as a snck, these pumpkin seeds pack a healthy dose of flavor, protein, and fiber.
I was so happy when I found dry-roasted pumpkin seeds that are gluten-free, since so many dry-roasted products contain wheat. I also like that they are low sodium, and also made with sea salt.
Providing good healthy snacking is the reason why this week's Friday Favorite is awarded to Eden Foods for their Dry-Roasted Organic Pumpkin Seeds! (Like 'em hot? Be sure to check out Eden's Spicy Pumpkin Seeds too!). Congratulations, Eden Foods!