Thursday, March 7th, 2013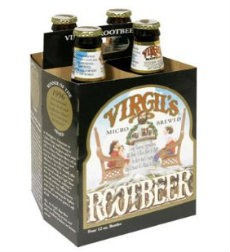 I love a good root beer. But I'm not one to drink tons of soda, usually because all of the chemicals and stuff. That's why I was so excited to find Virgil's All Natural Root Beer.
Virgil's Root Beer is a micro-brewed, unlike most all other root beers out there. Virgil's root beer is really brewed. In fact Virgil's says that they are what Ben & Jerry's is to ice cream, what Dom Perignon is to champagne. And you know what? They are absolutely correct. Their root beer is one-of-a-kind deliciousness.
Virgil's is also gluten-free, is made with all natural herbs and spices (vanilla from Madagascar? Cinnamon from Ceylon? Or clove from Indonesia, anyone?), and it comes in some fabulous flavors including Cream Soda, Black Cherry Cream Soda, Orange Cream Soda, Real Cola and Dr. Better.
All these all-natural, delicious and refreshing reasons are why Virgil's Root Beer is awarded this week's Friday Favorite on BeFreeForMe.com. Congratulations!
P.S. Speaking of Ben & Jerry's… how good would a root beer float be with Virgil's Root Beer and a scoop of Ben & Jerry's Vanilla Ice Cream? Yum!